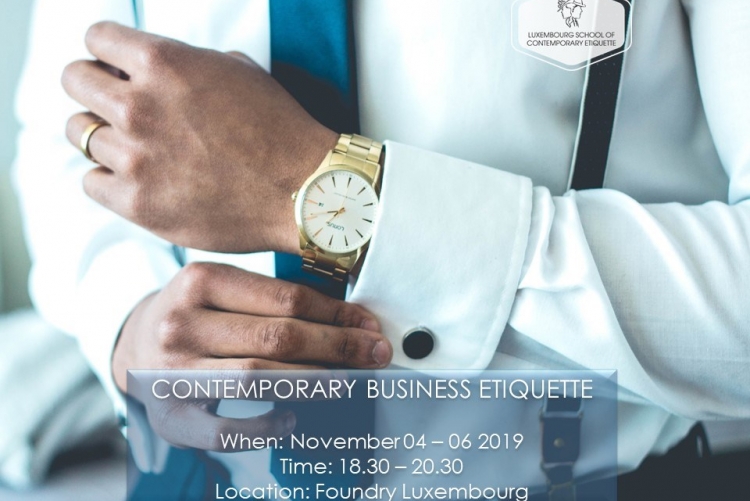 Facebook Event Link : https://www.facebook.com/events/663490434144892/
Our greetings to everyone!
We are happy to invite you to our three day public course in Business Etiquette.
Duration - 6 hours (three workshops)
Time - Mon-Wed, 18.30 - 20.30
Location - Foundry Luxembourg, 38-40 Route d'Esch
Max number per group - 12
The programme of the course is designed to introduce you to the main social & business etiquette rules with a touch of your Personal Brand development. This course is a great chance to refine yourself in a smart way.
​
Our methodology is to offer information through active intelligent learning. The programme will add value to:
- Young and ambitious professionals ready for personal transformation on their way in the world of business
- Entrepreneurs developing their business brand and building network of clients and partners
- Graduates making first steps in real business environment
- Experienced corporate officers who have already climbed the ladder of a successful career and need a smart refinement to make the next step.
Upon completion of the course, you will:
- Possess knowledge of Etiquette HOWs, WHATs and WHENs
- Have magnetic appeal and refined look
- Be a great Networker and know how to build a net of the right contacts
- Be a person of pleasure and respect.
Contemporary Etiquette course will equip you with the tools to feel confident in any social & business situation. The content is built to include theoretical and practical parts allowing for application and training of most essential habits.
Programme outline:
(1) Contemporary Business Etiquette & Personal Branding
(2) First Impression – Face to Face
(3) Non-verbal communication
(4) Networking – the Art of Building Relationships
(5) Intercultural communication skill
(6) Image & Style at Work
(7) Types of events. Dress code
(8) Netiquette: First Impression – Telephone & Online
(9) Table Manners – dinner at a restaurant
Dress code for the first two days – Smart casual.
Dress code of Day 3 – Cocktail.
Upon completion of the Full course, you will be granted a personalized LSCE Certificate of Completion.
To register for the course, please, fill in the form using this link: https://forms.gle/L9vhimbwxj72pdUK9 or send us an email at info@luxetiquette.lu
Your investment for a Three Day "Contemporary Business Etiquette for All" course is 349 euro. For more info, please, visit our site : https://www.luxetiquette.lu/
We will be happy to meet you at our events.
Ready for personal transformation - invest in yourself!